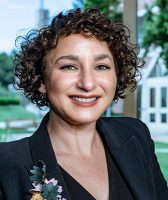 I wanted to become a law professor because, while I enjoyed my practice experience representing workers in labor antitrust litigation, I kept coming up against a system of labor protections that felt too broken to fix without deeper research and a broader conceptual reworking. I also missed the classroom and the archive after completing a Ph.D. in Comparative Literature before law school. I began researching fellowships and VAPs, realized I needed a current writing sample to apply, and spent nights after work developing a larger project idea and a law review article draft to submit to law schools. I only applied to fellowships and VAPs because I had no legal publications and didn't think I'd have a strong run on the doctrinal market without strong law publications.
A fellowship was a great fit for me. The Bigelow Fellowship at the University of Chicago provided a rich group of engaged interlocutors and mentors as well as structure and a steady stream of advice in navigating an unfamiliar law teaching market. I learned from fellows ahead of me on the market, asked junior faculty about their experiences on the market, and got feedback from tenured faculty that anticipated questions I got from faculty on the market. I vetted ideas and article drafts by other fellows and junior faculty, and after incorporating their feedback, used those more polished pieces to approach senior mentors.
I also kept a log of paper ideas. Sometimes I got ideas I couldn't fully develop while working my job talk paper; I'd drop a footnote and bracket those ideas off, then add them to my "Publication Ideas" document. Other times I got ideas from conversations with faculty or reading workshop papers, new cases, law blogs, or op-eds. When I came to write my Research Agenda, I had a set of ideas I could disentangle to find a unifying theme to my scholarship. I went through multiple drafts of my research agenda that I shared with other fellows, then junior faculty, and finally senior faculty mentors; I incorporated all their feedback.
While at Chicago, I placed one paper at the Cardozo Law Review (February cycle) and one in the Wisconsin Law Review (August cycle). If I could change one thing about my fellowship, it would be "thinking bigger" about my project from the start. I was so eager to get a neat, self-contained idea down that engaged with current scholarship and pushed it further by February that I may have committed too early to a narrower idea I later wished were larger. I pressured myself to get to a December deadline, but I wish I had taken more time to think through the broader contribution I wanted to make in my field, even if that meant waiting to publish. Everyone advised me against waiting (harder to publish in August, having no placement by AALS is ill-advised, and it may signal a lack of productivity). But my advice now is to make sure you're as ambitious as possible in what your job talk paper covers.
I went on the market in 2017-2018. The most difficult part was getting my job talk ready. I took advantage of the opportunity to give mock job talks at Chicago, my own law school, and the Southeastern Association of Law Schools (SEALS) truly amazing and helpful Prospective Law Teachers Workshop, and doing as many practice runs as I could in front of fellows and friends. It was painful but without a doubt worth the endless practice.
The other Chicago fellows and I decided to share information about interviews and offers early on, and I believe it was worth it to have a clearer sense of when schools were moving and when I might need to reach out to recommenders. I also prepared and sent recommenders a detailed list of schools hiring in my areas as well as schools hiring on a "Best Athlete" model, members of the hiring committees (including their contact information), and why I was excited about interviewing with each school (specific faculty, location, programs, etc.). In preparing for interviews, I researched the hiring committees (including their scholarship) and each of the law schools' programs and resources. I did mock interviews at Chicago, my law school, and SEALS. The Chicago fellows rotated mock interviews into a weekly lunch where we would ask hard questions and give feedback.
I received 7 pre-AALS interviews, 32 AALS interviews, 10 callbacks/callback offers and 6 offers. I made sure to email my recommenders a weekly update on any positive developments on the market. I was truly lucky to get an offer from a dream school before AALS, so I cancelled AALS interviews I was really excited about but would have been far from family and difficult for my husband's job.
In preparing for callbacks, thoroughly review all of the publications listed on your CV and prospective papers in your research agenda. I was caught off guard a few times when during interviews some faculty wanted to focus on papers I hadn't thought about for a while or were still in their early stages. Also, I prepared a "cheat sheet" packet for each callback: (1) summarizing in outline form each of my papers/prospective papers; (2) sample syllabi of courses on my FAR Form, including experiential learning components I'd incorporate and why I chose one casebook over others; and (3) a list of the faculty (including their research field and publications). Because I was nervous the night before, I'd use my cheat sheets as security blankets to feel as prepared as possible for the next day. And once you hit breakfast, RELAX and be you—that first meeting is one where people just want to see if you connect. You'll know when they want to jump into talking about your work—they'll ask!—but for easing in, I definitely recommend being as relaxed and "You" as possible.